Features:
The MLA210 is a medium scale line array loudspeaker for long throw distance scale sound reinforcement, uses the MLA210 flying frame which can be flown in vertical columns up to 16 cabinets. MLA210 is a 2.5-way design housing fitted with two 10" neodymium LF driver and one 1.4" neodymium HF driver coupled to a patent line array horn, made of high quality plywood.
MLA210-IP46 is finished with polyurea waterproof paint, uses special finished componets and spare parts, can accord with IP-46 standard of GB4208.
The MLA215B is a dual 15" low frequency enclosure designed for sub-bass reinforcement to MLA210, made of high quality plywood. MLA215S-IP46 is finished with polyurea waterproof paint, uses special finished components and spare parts, can accord with IP46 standard of GB4208.
Features:
1. High quality NEODYMIUM components
2. Patent line array horn
3. High quality plywood with special paint
4. Bi-amp and passive way choice
5. Small cabinet with light weight
6. Convenient for bracket and fixed installation
7. Good chioce for conference room, multi-purpose hall, high-end hotes and moving performance
Main Product Introduction:
1.Line Array System: LA series, MLA series
2. Monitor System : MR series
3. PA two-way loudspeaker system: U series,QS series, FT series
4. Multi-purpose MINI System: MINI series
5. Column system: K series
6. Plastic system: CX series
7. Long through system: LT series
8. Karaoke sytem: IW series, PR series and KW series
9. Active Series: KS and U Active series
10. Electronice products: amplifier and processor
Factory Introduction:
FDB Audio Manufacture Co., Ltd is specialized in researching, developing and manufacturing in PRO audio products. The main products are professional transducers(HF driver & woofer), speaker cabinets and electronic products like amplifiers and processors.
FDB Audio adopts the world' S top-aided software and advanced techonoloy, owns advanced production equipments and testing apparatus, establishes cooperation development mechanisms with a number of world top grade materials and accessories manufacturers. Some important materials are imported from abroad, like voice coil, diaphragm and paper cone.
FDB Audio has established and strictly enforced the standard quality management system in accordance with ISO 9001: 2008. "Strictly enforce sound processes and standards, full quality control and customer satisfaction" is the quality policy.
Mr. Harry Xia is the boss of FDB Audio, graduated from Physical department of Zhenzhou University. He is engineer, has done proaudio district more than 20 years. He once worked for R&D department of the state-run speaker factory in Henan province about 3 years after graduating university, then worked for a Taiwan speaker factory in Guangdong about 2 years. After that, he joined Elder Audio as the sole engineer, factory manager and also one shareholder of this factory, Thoman and Proel, they developed new models together. He worked for Elder audio about 9 years, quitted by the end of 2005 and established FDB Audio in Jan of 2006.
During 9 years effort, FDB Audio has gained good feedbacks from local and overseas market. The customers said " The quality is very stable, reliability and consistency are very good".
Factory Pictures: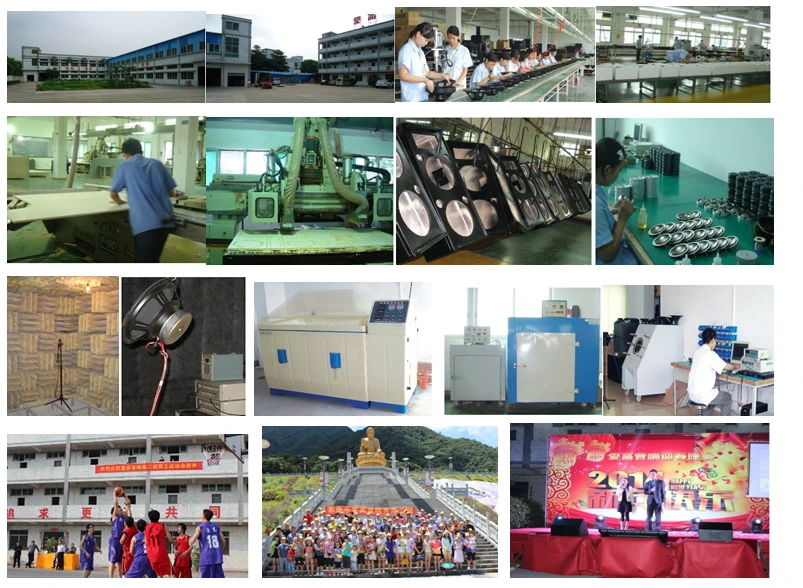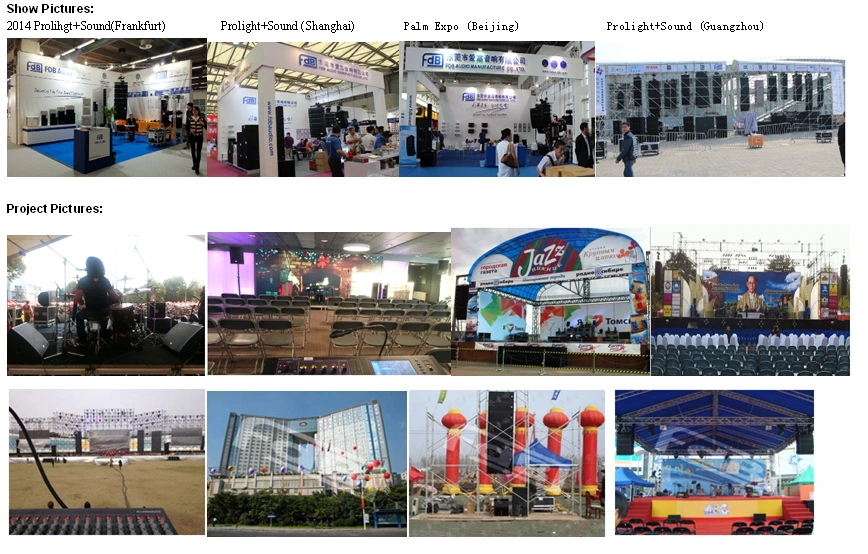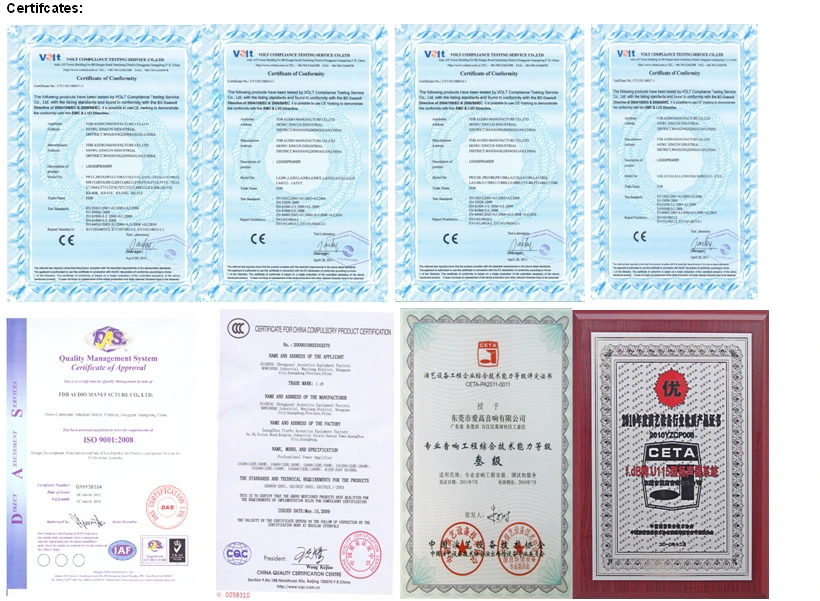 Factory Contacts:
Web:
fdbaudiochina.en.made-in-china.com
FREQUENCY RESPONSE(-3dB)
55Hz-18kHz
DRIVERS
2×10"(250mm)/3"voice coil LF
1×1.4"(36mm)/3"voice coil HF
RATED POWER
500W RMS,2000W peak
SENSITIVITY
101dB 1watt/1 metre
MAXIMUM SPL
128 dB continuous,134 dB peak
IMPEDANCE
8 ohms nominal
DISPERSION(-6dB)
Horizontal: 100°
CROSSOVER FREQUENCIES
700Hz, 1.5kHz passive
INPUT CONNECTORS
2×Speakon NL4
PACKING SIZE
525mm×410mm×865mm
NET WEIGHT
26.2 kg/pc
GROSS WEIGHT
28.7 kg/pc