2 Way Acoustic Design

1" tweeter and 3" full range driver for two front satellites make crystal clear and high quality sounds with a wide a range to the speakers.

Minimalistic, Yet Elegant Design

Embossed satellite with curve design gives a fresh yet classic look.

Matte Finishing

Matte finish not only gives the speaker a classic and high-end look but also keeps your speaker fingerprint free for a clean organized look.
Immerse Yourself in Bass

8" bass driver for a subwoofer enables you to enjoy powerful and heart thumping bass.

5 Satellites

More Satellites so you can fill the entire room with sound and enjoy the surround sound effectiveness.

Bluetooth 4.2

The latest Bluetooth version work at a distance of over 15 meters and offers a better connection.
APP for Multi-functional Control

Bluetooth connection, Local music, AUX, FM Radio, USB Music, LED Light.

Install App on Smart Devices and you can Easily Control the Speakers

Multicolored LED Themes

Special multi-colored LED lighting on speaker carries you to a colorful and beautiful world when enjoying music.
PLL FM Storage

The speaker adopts uninterrupted digital PLL FM Technology and can store up to 100 FM radio stations.

Full Function Remote Control

Remote Control with fluorescent buttons working at a distance of over 10 meters makes you easily control your speakers at any time.

Dual Format Decoding

USB reader supports MP3/WMA dual formats decoding.
Function
Parametric
Loudspeakers
Connectivity
Power
Standby, Sources and Bluetooth button Play/Pause/Fm auto scan button Previous/Ch-, Next/CH+, Volume+/- button
Subwoofer Frequency Response: 25Hz~85Hz
Satellite: 1" tweeter 3" full range driver
Cable Length: Satellite speakers: 1.5m
Power Input: AC 100V-240V~50/60Hz 2A

Satellite Frequency Response: 60Hz~20kHz

Subwoofer: 8" bass driver
Audio Input Cable: 1.5m
Output Power (RMS): 135W
Audio Input Cable: RAC vs. 3.5mm stereo cable x 1pcs
Satellite: 15Wx5, Subwoofer: 60W
RAC to RCA stereo cable x 1pcs (optional)

S/N Ratio: 73dB, Sepration: 50dB



Features

• 3" full range driver and 1' tweeter for satellites 8" bass
driver for subwoofer
• Innovative automatic multi-color LED on subwoofer
• Bluetooth 4.0 version
• Bluetooth operation range works at up to 15 meters
• USB reader supporting MP3/WMA dual formats decoding
• Uninterrupted digital FM working on PLL technology
• FM storage up to 100 stations
• Bright white LED display with good view angle
• APP application
• Full, clear sound with powerful bass
• Wireless Play your desired song & FM station directly
with numeric keys on the remote


Specification:

• Power input: AC 100V-240V~50/60Hz 2A
• Power output: 15Wx5+60W (RMS)
• Tweeter: 1"
• Full range speaker: 3"
• Subwoofer: 8"
Frequency response:
Satellites: 60Hz~20KHz
Subwoofer: 25Hz~85Hz
Signal to noise ratio: ≥ 73dB
Separation: ≥ 50dB
Product dimensions (WxHxD)
• Subwoofer(WxHxD): 240*356*396MM
• Satellite(WxHxD):104*205*90MM
• Full Range(WxHxD):86*103*284MM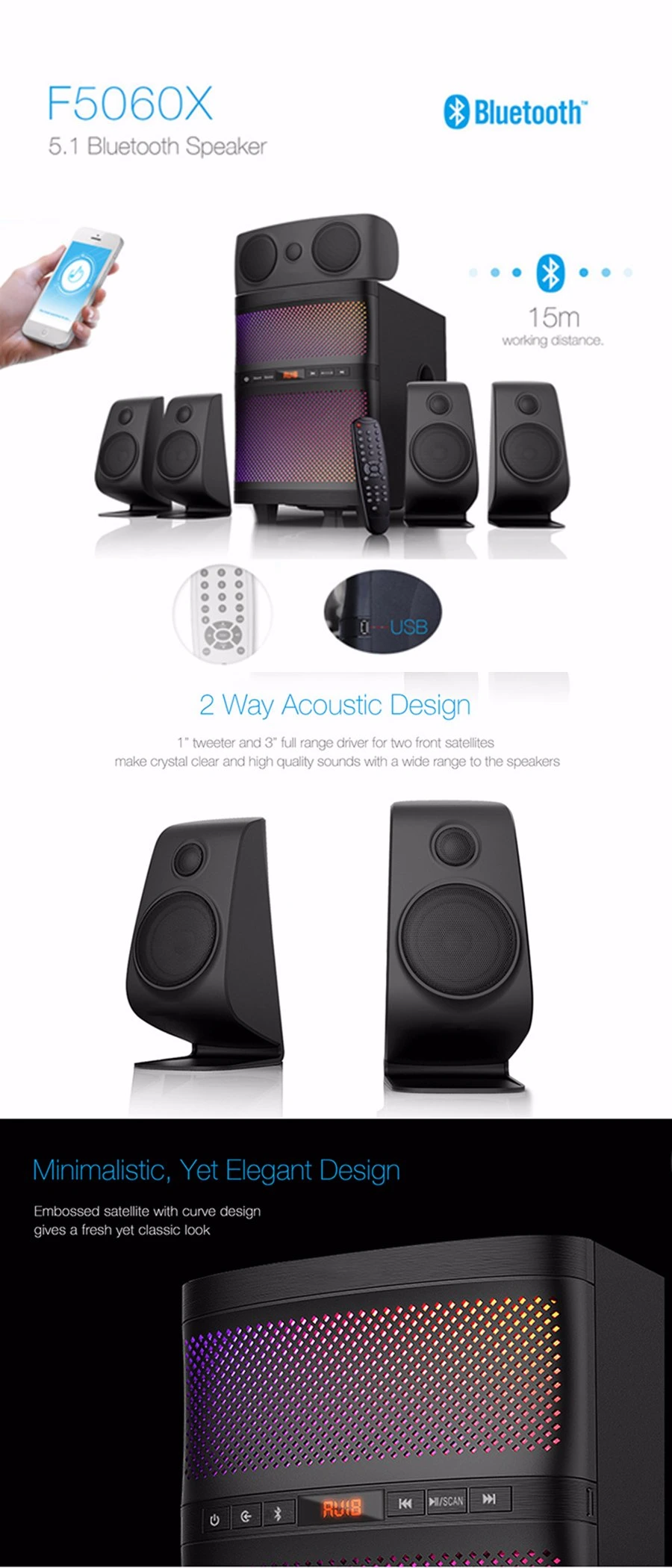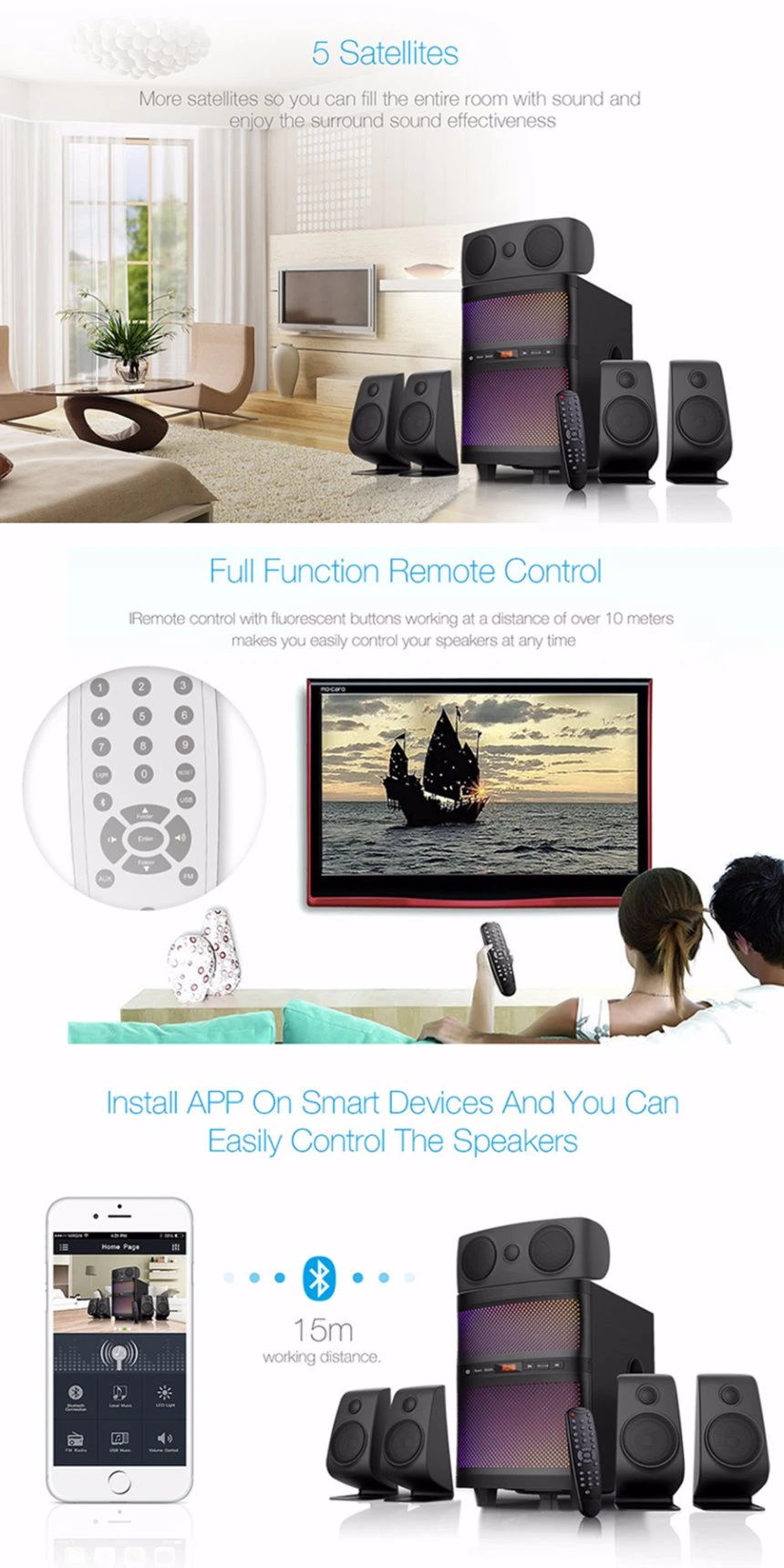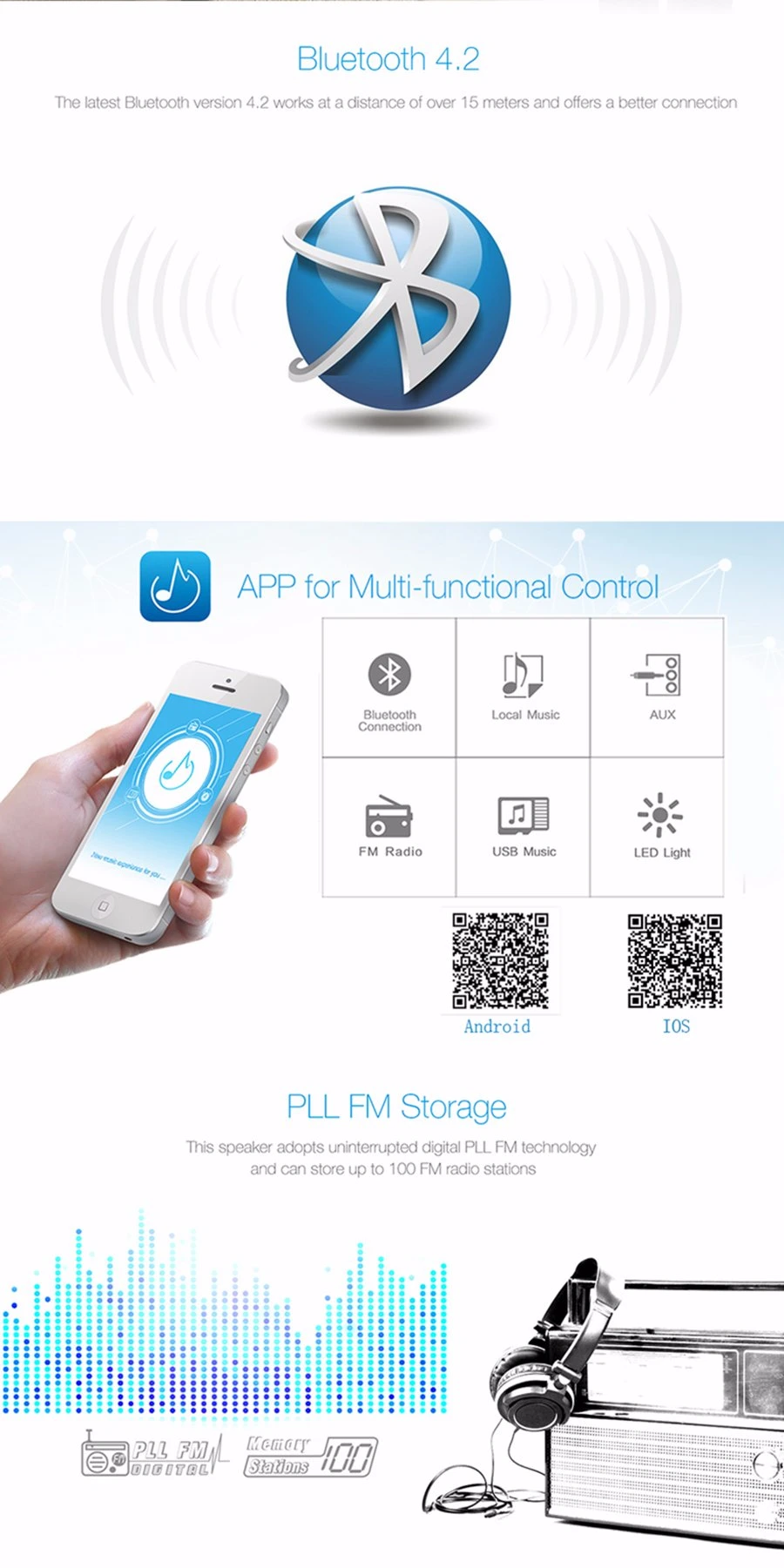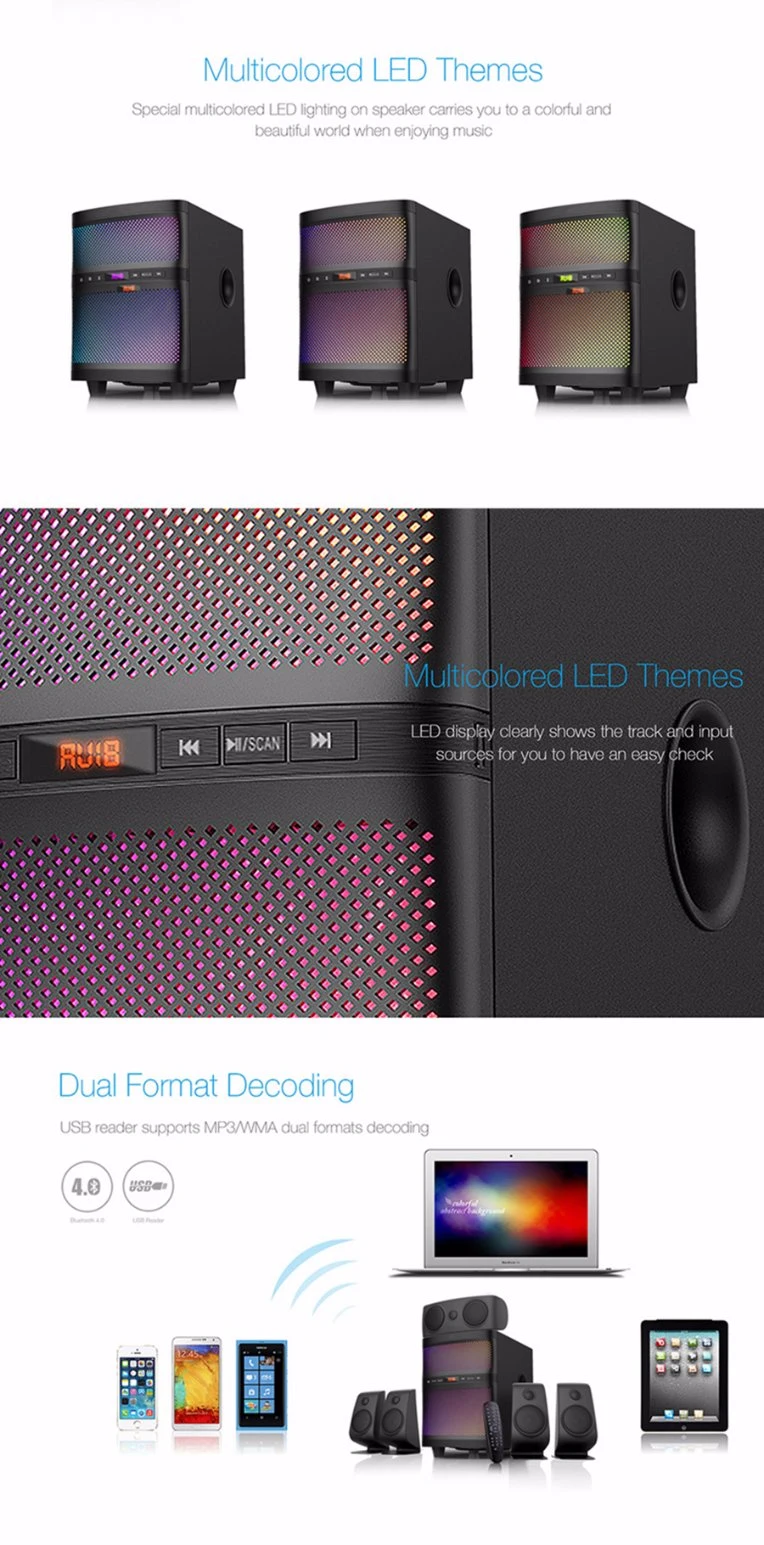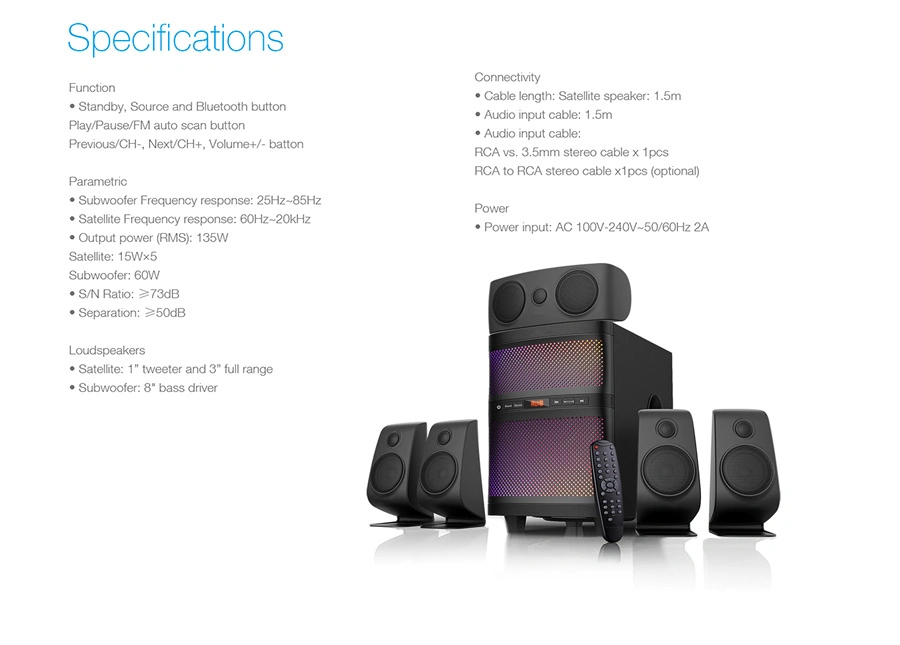 Customer Reviews
Top customer reviews from Amazon
This product is very good, and sound quality fine bass tube awesome
ByDipen Rakshiton 22 March 2018
Verified Purchase
This product is very good, and sound quality fine bass tube awesome, thank you Amazon. i give rating 5 star this product .


Thanks to Amazon for Safe delivery. No words for ...
ByAbhishek Vermaon 18 October 2017
Verified Purchase
Thanks to Amazon for Safe delivery.
No words for the heart thumping bass.
Specially when it comes to F5060X.
Superb speakers at this reasonable price.


5.0 out of 5 starsGreat buy
ByPK SUNIL KUMARon 8 October 2017
Verified Purchase
An excellent product. Nice sound output.
Comment|Was this review helpful to you?
Yes

No
Report abuse
5.0 out of 5 starsSuper Duper Product..
ByAnurag Goswamion 14 March 2018
Verified Purchase
Beautiful sound beyond imagination. Superb bass. Looking so attractive. Superb product on lowest price..

Awesome
Byramesh kumaron 16 November 2017
Verified Purchase
I thank Amazon for the kind of service provided by them and I got the product before then the expected date. The packing was superb and for this I wanna give 5 stars.

Coming to the product. The look is very cool and when it comes to sound then it's awesome. The bass will move you like anything and make you dance. I suggest everyone if they want to buy any sound system in this range then go for it. I would give 4.5 Starts for the product because I felt like if there would be direct left right cords for the speakers then that would be great because the system what they are using is a old one.
Questions and Answers
Question:
Are the speaker connected with wire?
Answer:
Yes
By JAZZ NETWORK SELLER on 20 September, 2017
See more answers (1)
Question:
How to connect with my 50 inch led onida tv?
Answer:
yes
By Amit on 3 January, 2018
Question:
Does it have a optical audio port as they give in t60x model???
Answer:
Nope it doesn't have optical output
By charles on 2 August, 2017
Question:
How to connect this system from an samsung led tv for 5.1 output??
Answer:
By using aux cable and select 5.1 channel from remote
By Guru computers SELLER on 28 May, 2017


Question:
How to connect this system from an samsung led tv for 5.1 output??
Answer:
By using aux cable and select 5.1 channel from remote
By Guru computers SELLER on 28 May, 2017
Question:
can we off it's led light (does it has led switch off option) to enjoy theater view on dark room?
Answer:
Yes
By JAZZ NETWORK SELLER on 21 September, 2017
Question:
is settelites can be wall hanged
Answer:
Yes, u can
By kumar on 8 October, 2017
Question:
the 5.1 is srround sound?
Answer:
Good product..
By Pasupuleti Santosh on 19 April, 2018
Question:
Its 5.1 or 4.1?
Answer:
its 5.1speaker
By FIRST POINT COMPUTER AND MOBIL… SELLER on 14 October, 2017