2 Channel Amplifier Power Amplifier, Outdoor Power Amplifier FP3400

1.2x1700W@2 ohms Professional Audio Amplifier
2. Fp3400 TD Class Audio Power Amplifier
3. Light Weight Digital Amplifier
4. Pro Power Amplifier, High Power Amplifier

KEY FEATURE
1). Switching power supply
High efficiency and stability of the new switching power supply so that the signal transmission speed faster and more stable voltage changes, sensitivity stronger, lighter weight.
2). Intelligent signal limiter
Each channel has an independent output signal overload distortion, automatic pressure limited function, when the output signals are now clipping distortion can be quickly restored to the output signal compression is not the biggest distortion level and no reduction in the frequency response of audio signals, to avoid DC level because of the audio signal output and burned speakers.
3). Multiple detection, multiple protection
A soft start, the second start, the (low) pressure protection, output overload and short circuit protection.
4). High efficiency, low fever
Efficient Class TD amplifier, significantly reduce heat loss.
5). Pristine audio
Metal Packaging, high-power transistors, Yanyi a pure, passionate, authentic audio effects.
6). Removable face Network
Removable the hole into the wind-net, easy cleaning.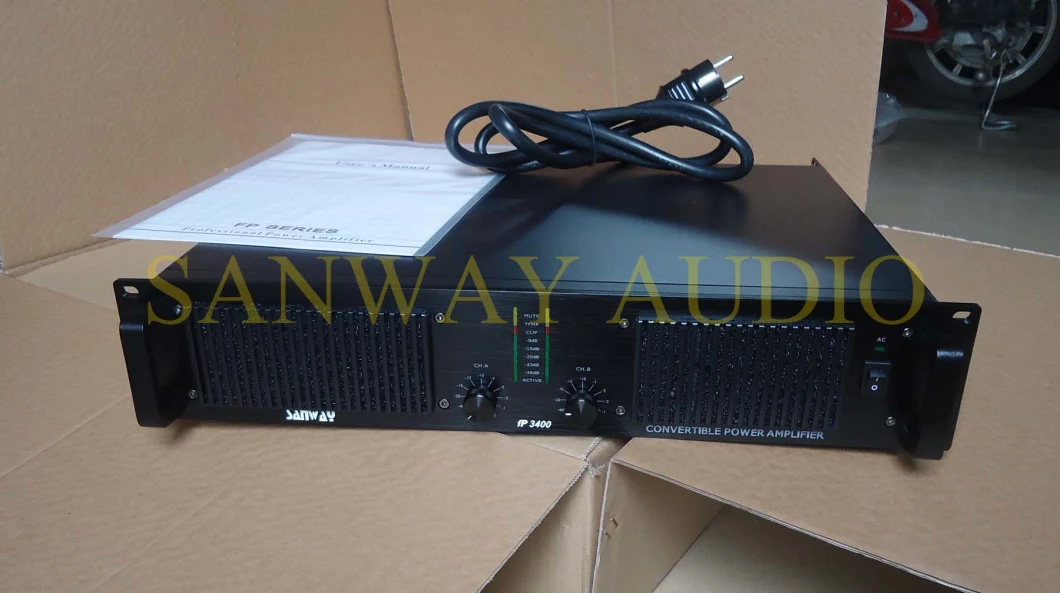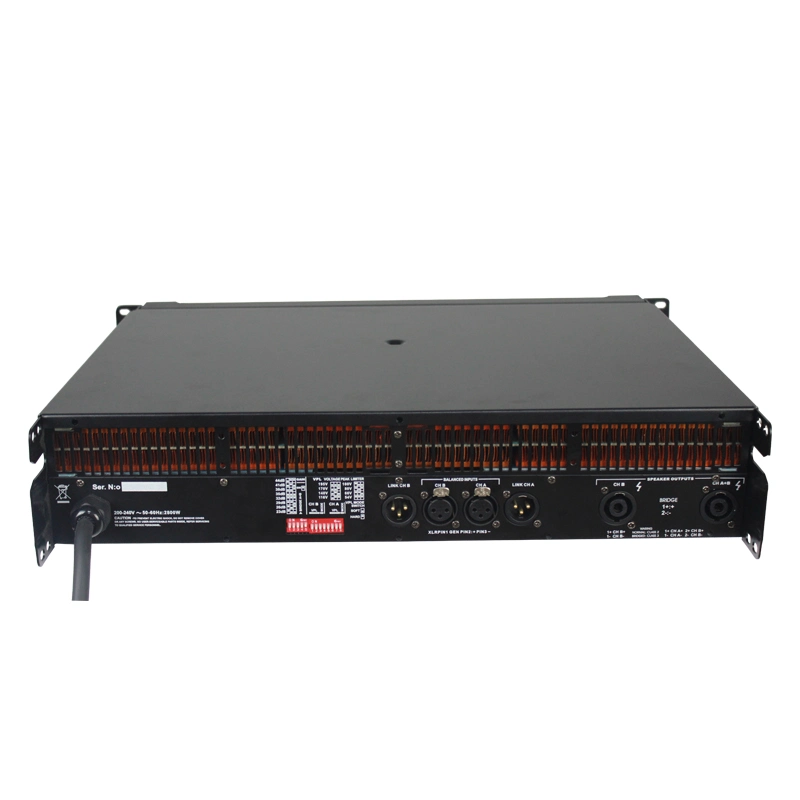 Specification
Switching Power Amplifier fp3400
ITEM
fp-3400
Output Power
20-20kHz, 1W with 1 khz
8ΩStereo Power(RMS)
1100W ×2
4ΩStereo Power(RMS)
1500W ×2
2ΩStereo Power(RMS)
1700W ×2
8ΩBridged Power(RMS)
3000W
4ΩBridged Power(RMS)
3400W
Frequency Response (+o/-0.3dB, 1W/8Ω)
20-20KHz±0.5dB
THD+N:10KHZ<0.05%
10KHZ<0.05%
Signal-to-Noise
<-110dB
Slew Rate
20V/us
Input Connectors (per channel)
Female XLR (pin 2+, configurable for pin 3+). TRS (tip+)
Output Connectors (per channel)
5-way binding posts or Speakon connectors (market dependent)
Class
TD
TourClass Protection
ACL, IGM, AutoRamp, short circuit, DC voltage, turn-on/off transient, current inrush, sub/ultrasonic input
Voltage Gain(dB)
20 23 26 29 32 35 38 41 seletable
Cooling
4pcs variable speed DC fans, better than conventional cooling
Controls
Front panel: 2 attenuators, power switch; Rear panel: signal ground lift & mode switches
Dimensions (W×H×D)
483×88×347mm
Packing dimension
580×180×560mm
Net weight(kg)
13
Gross weight(kg)
17