Bring Home the Best Sound Quality
T40X tower speakers are sleek, trendy, classic and designed for the ultimate acoustic sound. It includes a 3-way acoustic design and a 1-inch dome tweeter, making it ideal for a home theatre experience. You may also connect your device directly to the speakers as the Bluetooth allows you to seamlessly stream your music. Easily pair and play your tracks on these tower speakers.

Manufactured for the Ultimate Music Experience
With a silk dome tweeter, 4-inch woofer and 6.5-inch subwoofer, T40X give you a powerful acoustic sound output. Made from high quality wood, the housing produces a natural and powerful sound. Place it in a living room or a home theatre for an ideal movie watching experience as it is compatible with DVD, TV and mobile devices. It also provides connectivity with USB, AUX and Bluetooth. Play your favourite music directly from your mobile device on the T40X tower speakers.

Choose from Multiple Connection Options
Featuring a radio function with external FM antenna, you can listen to radio stations on these speakers. This speaker also has sound controls on the side and remote control access to get your preferred sound output.
Features
• 3 way acoustic design: 1" silk dome tweeter, 4" full range speaker and 8" subwoofer for each channel
• Designed to perfection, powerful sound with wide range for a perfect cinema experience
• Elegant and sturdy wooden cabinet design
• Support Optical,Bluetooth,USB,FM,AUX audio input
• Bluetooth 5.0 capabilities allow you to stream your music from smart devices
• Bright LED display with wide view angle
• Plug & play USB card reader
• Card reader supports MP3/WMA with dual format decoding
• Digital PLL technology brings uninterrupted FM experience
• Store a max of 100 FM stations
• Karaoke function enjoying home entertainment
• Full function remote control
Specification:
• Power output: 80W(40Wx2)RMS
• Tweeter: 1"
• Full range speaker: 4"
• Subwoofer: 8"
• Frequency response: 20Hz - 20 KHz
• Signal to noise ratio: ≥ 75dB
• Separation: ≥ 45dB
• Product Dimension: W170xD265xD612mm
• Net weight: 11.7kg(net)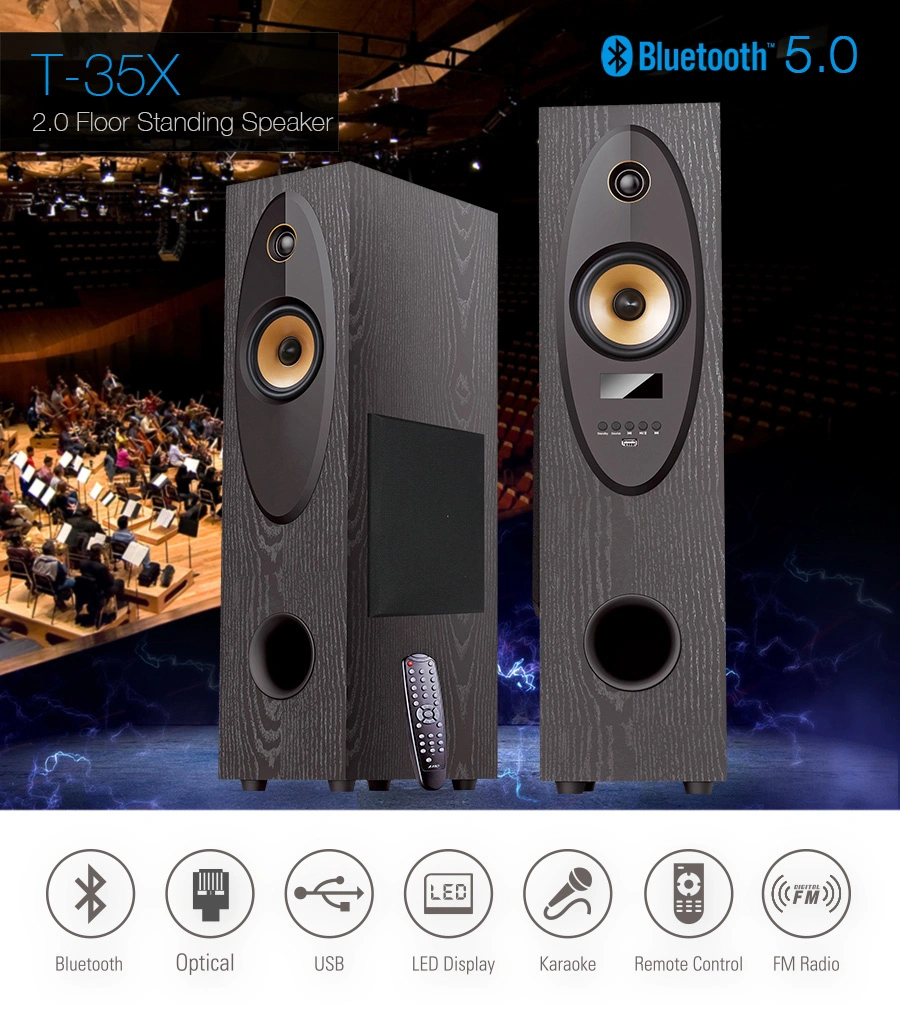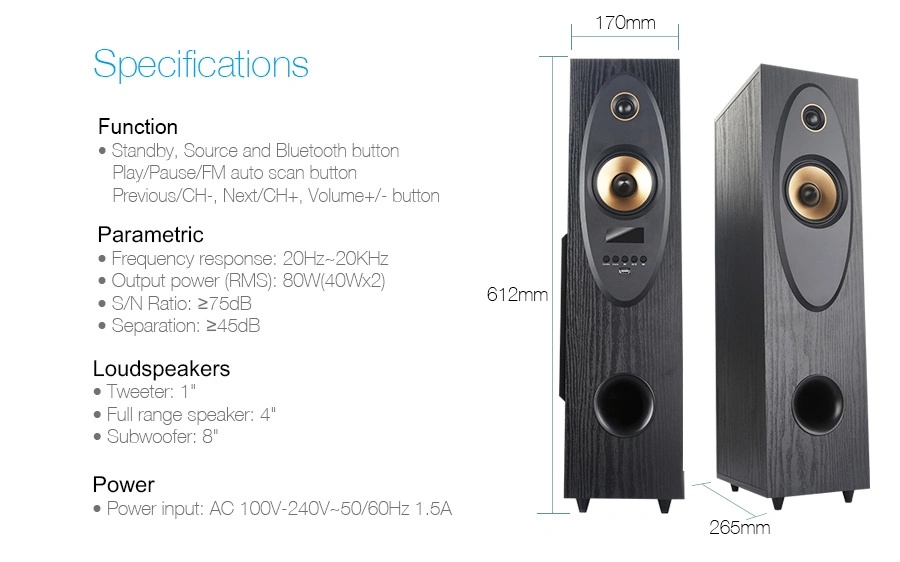 T series other models for option
(T30X, T35X, T40X, T50X, T60X,T70X, T88X)
2.0 bluetooth tower speaker TV speaker home theater speaker floor standing speaker karaoke speaker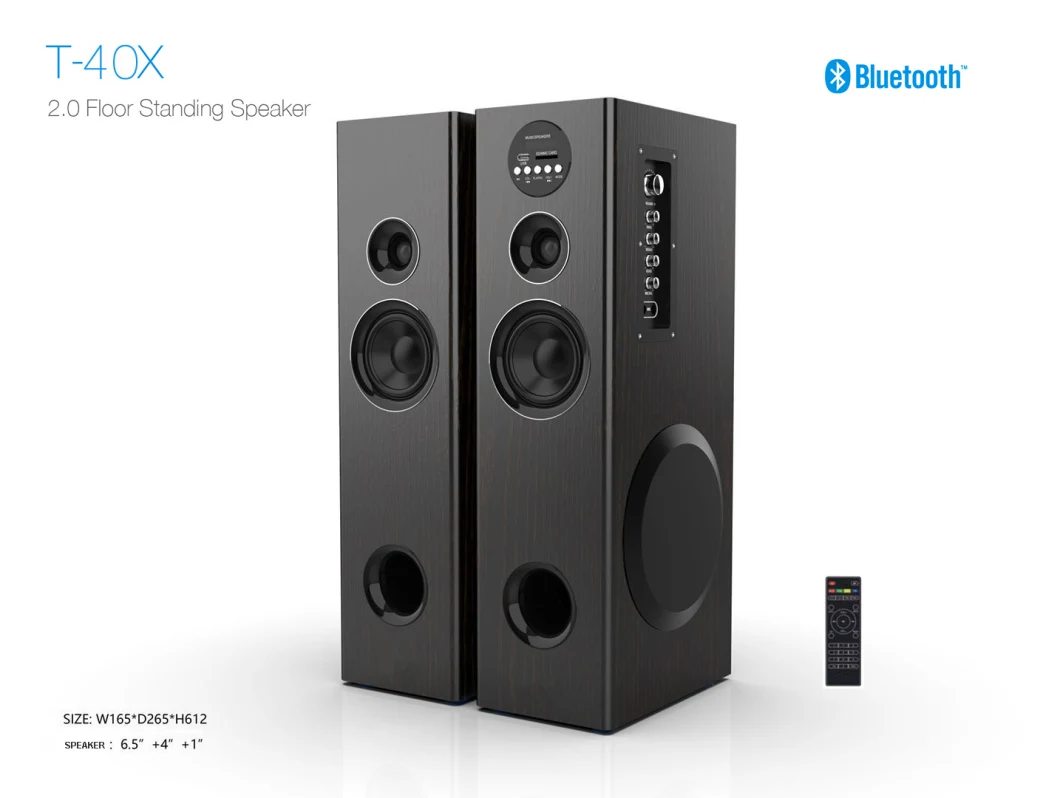 110w and wooden colors for options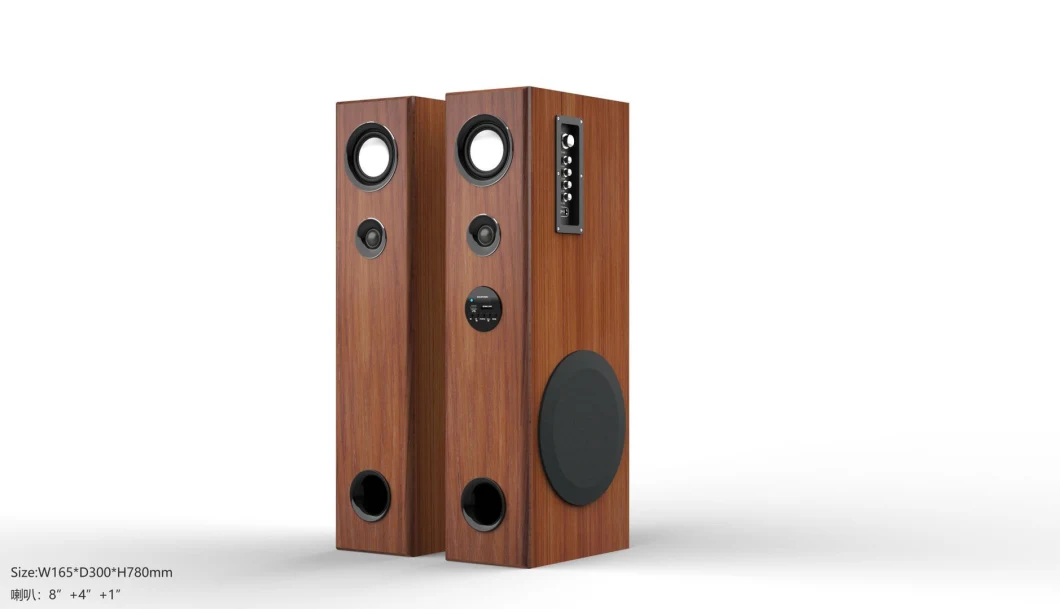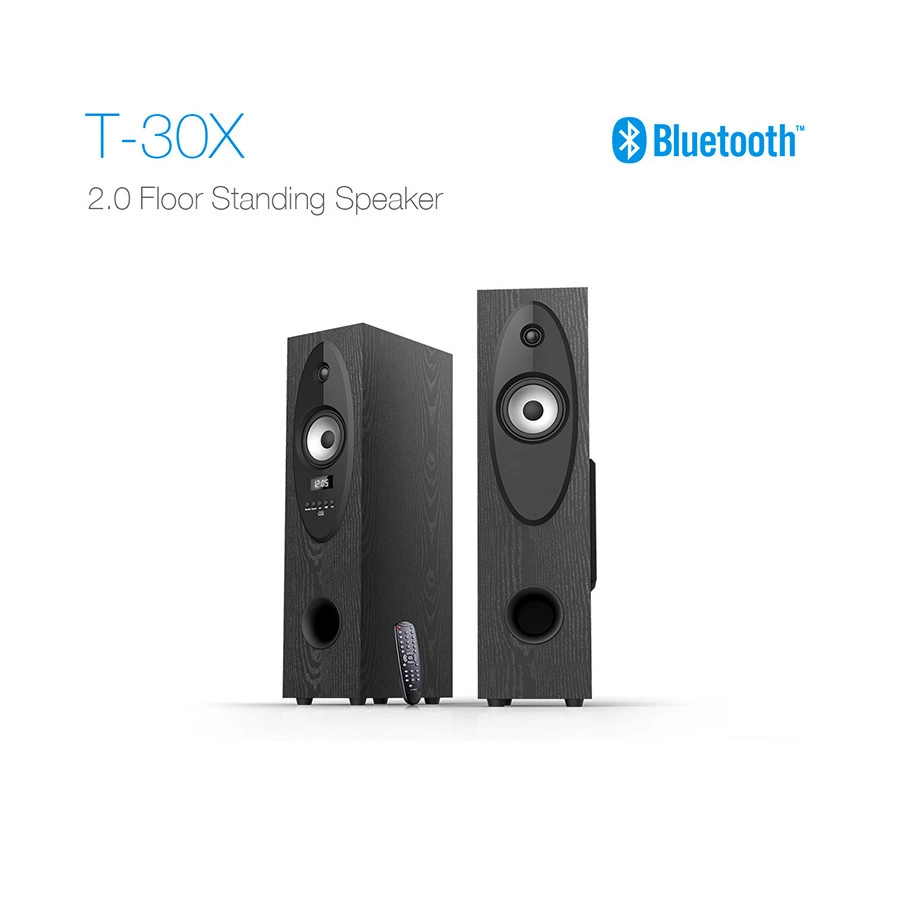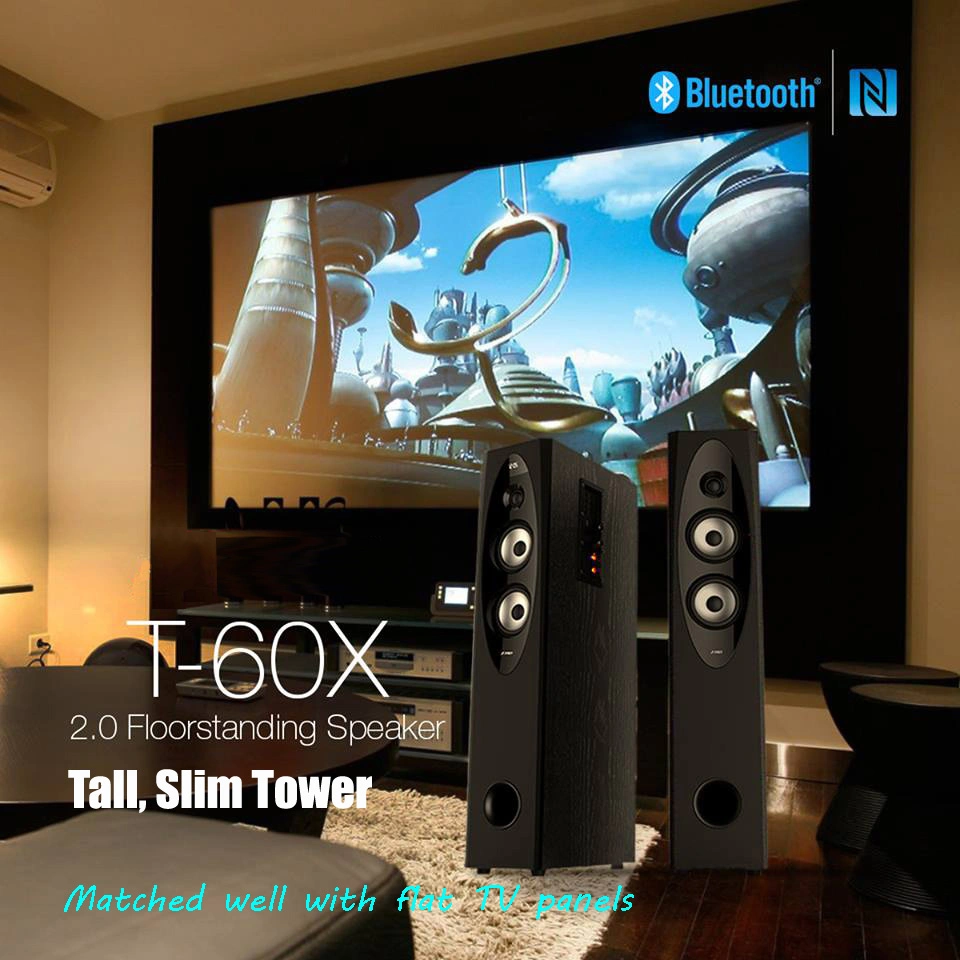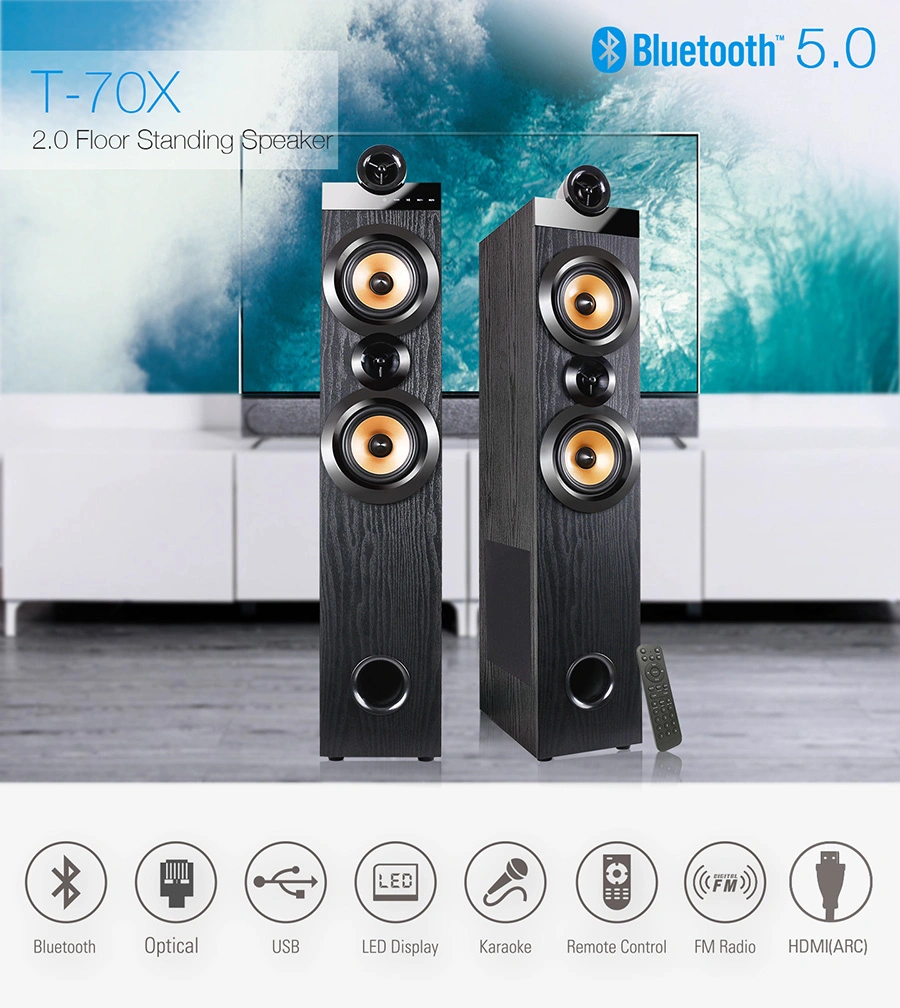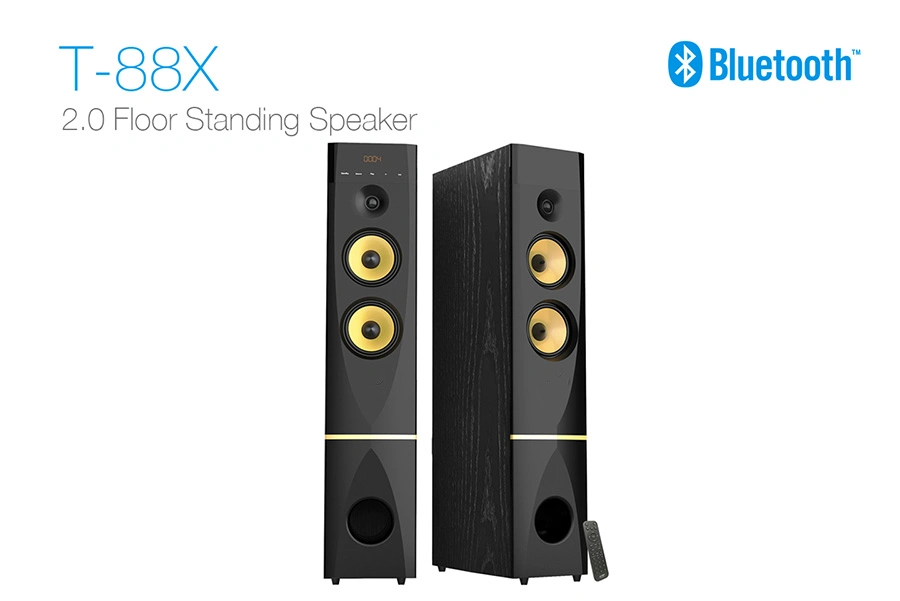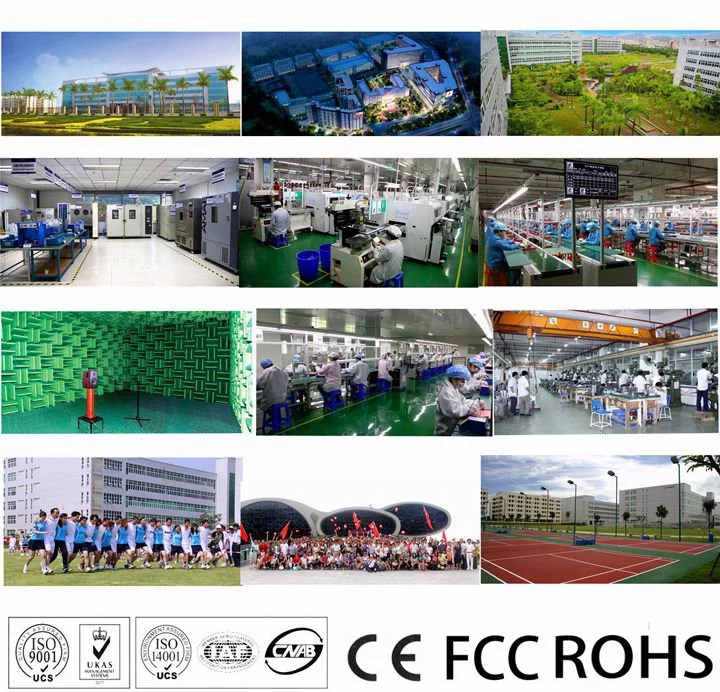 Customer Reviews
Top customer reviews from Amazon
Mind Blowing Bass..Best home theater
Chinmaya Panda 21 October 2017 Verified Purchase
It is one of the best speakers availaible in this price
Pros:
1. Produces thumping bass. It has 30 Max level sound, even at 12-14 level my home starts to vibrate..
2. Even treble is really good, mid and high notes are good.
3. Mic is of good quality. Bluetooth connectivity is good.
4. Sound doesnot distort at high level or max sound.
5. Believe me you no need to go to theater..Sound is too good.

Cons:
1. Nothing.
2. Yes, Your neighbours wont like it..They will feel earthquake everytime you play movies and songs.

Please go for it without having second thoughts.
starsJust Awesommmmmmmm, Floor Shaking Bass.
Nileshkumar 24 January 2018 Verified Purchase
Hi Amazonians,
Im posting this review of T60X model just after I bought, Unboxed, and played it.
I heard a lot about this product, and all was positive review.
Even I, myself researched about it a lot because I was fed up buying some shit and spending my money
like nothing on audio system.
But this Audio system met my expectation and it's Paisa Vasool product.
Talk about its look, then it's really looks elegant.
Won't talk much about specs as you can see in description on Amazon.
Volume goes up to 30, bass goes up to 5 and so as treble. But it's really loud, even my ears hurt once.
Mic voice clarity really crystal clear, feel like you're on stage, gives live theatre like feeling.
I can't say much about this product, just glad to buy this product, every single penny vasool.
Don't think twice, just go and grab this product.
Return option is available with refund but you won't do it because you won't get disappointed by this giant Tower.
In love with T60X.
Thank you so much Amazon for this amazing product on amazing deal.
You can feel like a dance floor
Subash babu 20 October 2017 Verified Purchase
It really shakes the hall, You can feel like a dance floor. High bass. Excellent Bluetooth connectivity.
Good mike response. Superb product.
Excellent for melody songs lover means melody songs plus bass ...
RAMESHBABU GOTTIPATI 8 October 2017 Verified Purchase
Loud powerful sound + high tight bass good for small parties. Full DJ like sound. Bass and sound don't distort even
at high volumes. Overall built quality is very nice.
Bloothooth connection is an excellent. youtube video songs are pretty good. Remember it is stereo only speakers
not regular home theater.
For the price it is pretty good choice to listen beautiful melody songs with an excellent bass, Looks wise pretty good.
Tv hd channels are giving good sound not excellent other channels ok ok . Worth for money go for it. Amazon shipping
and service always excellent.
Deep BASS, absolutely loving it.
Vivek 2 January 2018 Colour: brown|Verified Purchase
An awesome set of Speakers, with deep bass and punchy sound. The sound is mind blowing, i had philips speakers
and that looked so puny in sound when compared to it, especially the bass. Anybody looking for bass should buy this.
Even the other brand speakers with more price cannot match it. Other things like FM, Bluetooth, USB, AUX are working fine.
Bluetooth has a good range and great sound quality. NFC comes very handy. The placement should be done properly
in room to experience the bass effect. Thanks amazon and seller.
Awesome product, best product in this price range
Amazon Customer 7 November 2017 Colour: brown|Verified Purchase
If you are a bass lover then it is a right choice. Sound quality and clarity is superb with a stylish look. Loudness
is more enough for a House party. One of the best product in this price range. Mic is so so, sometime it got disconnected,
but Mic is not so IMP for me so m loving it.
Questions and Answers
Q: What about the minimum purchase quantity on factory price?
A:Usually 10pcs is ok for MOQ, but in fact, customers/our distributors would like to buy 1 container with mixed
models to save freight charge.
Q:What about the payment terms?
A:The normal payment way is TT, 30% deposit & the balance paid before shipment. If you prefer other payment way,
you need to check with sales.
Q:Which model is better fenda t 80u or t 60x
A:I think both will be same, but in T80U there is no bluetooth, FM and NFC connectivity, T60x has all these
connectivity.... Bass effect was really superb in T60x not sure about T80U...
By GOWRISHANKAR on 12 November, 2016
Go for t60x, awesome sound quality and punchy bass.
I did bass test on t60x and it shaked my home... Lol
By chandu on 13 November, 2016
Q:does it support optical input and do this unit have bass treble control
A:yes optical input is available and yes, there is bass and treble control
By Amazon Customer on 23 January, 2017
Q:Can i connect my led tv through optical output?
A:yes sure if your led tv have the optical slot.
By Amit Gautam on 15 March, 2017
Q:can plug usb?
A:Yes.... U can play mp3 songs through pendrive
By Jaffrin Benison J on 15 February, 2017
Q:Is it provide good bass in 20×20 hall?
A:Yes it's superb
By Ervin David on 20 July, 2017
Q:Can we use this speaker with dj controller?
A:These speakers has 110 Watt RMS amplifier, as per my experience these speakers can produce good quality
sound with dj controller. After observing lot of views I purchased these speakers, right decision good acoustic sound.
By Amazon Customer on 5 August, 2017
Q:Can these be connected with smart led through hdmi?
A: I THINK YOU CAN BUT YOU NEED TO HAVE A CABLE WHICH HAS USB ON ONE END & HDMI ON OTHER END
BUT YOU CAN USE OPTIC FIBRE CABLE TO CONNECT TO SMART TV
Amazon Customer answered on 21 November, 2017
Q:Is it good for karaoke singing
A: Yes. Of course. I tried karaoke & its working well like a concert. You can adjust echo & mic volume.
By Amazon Customer on 2 February, 2017
Q:This speakers can we use outdoor or open area how is the sound?
A: I think.. yes, you can use open area.I still have not tried outdoor,but it's sound very loud & clear.Expecting
it will work properly outdoor.
By Satyendra Gupta on 10 November, 2017