1250wX4CH professional karaoke dj power amplifier FP6000Q public address system amplifier
FP6000Q Switching Power Audio Amplifier

ITEM

FP6000Q

8ΩStereo Power(RMS)

625WX4

4ΩStereo Power(RMS)

1250WX4

2ΩStereo Power(RMS)

1500WX4

8ΩBridged Power(RMS)

2500WX2

4ΩBridged Power(RMS)

3000WX2

Output Power

20-20kHz, 1W with 1 KHz

Frequency Response(+o/-0.3dB,1W/8Ω)

20 Hz - 34 kHz

THD 20 Hz - 20 kHz for 1 W

<0.1%

Signal-to-Noise Ratio

>112 Dba

Channel separation (Crosstalk) at 1 kHz

>70 dB

Input Connectors (per channel)

3-pin XLR, electronically balanced

Output Connectors (per channel)

Binding Posts 2-pole

Class

TD

TourClass Protection

short circuit, DC voltage, turn-on/off transient, current, inrush

Operating voltage

130-265 V / 65-135 V selectable

Voltage Gain(dB)

23, 26, 29, 32, 35, 38, 41, 44 dB selectable

Input impedance

20 Kohms

Level adjustment (per ch.)

Front-panel potentiometer, 31 position detented from -inf to 0 dB

Dimensions (W×H×D)

483×88×396mm

Packing dimension

580×180×560mm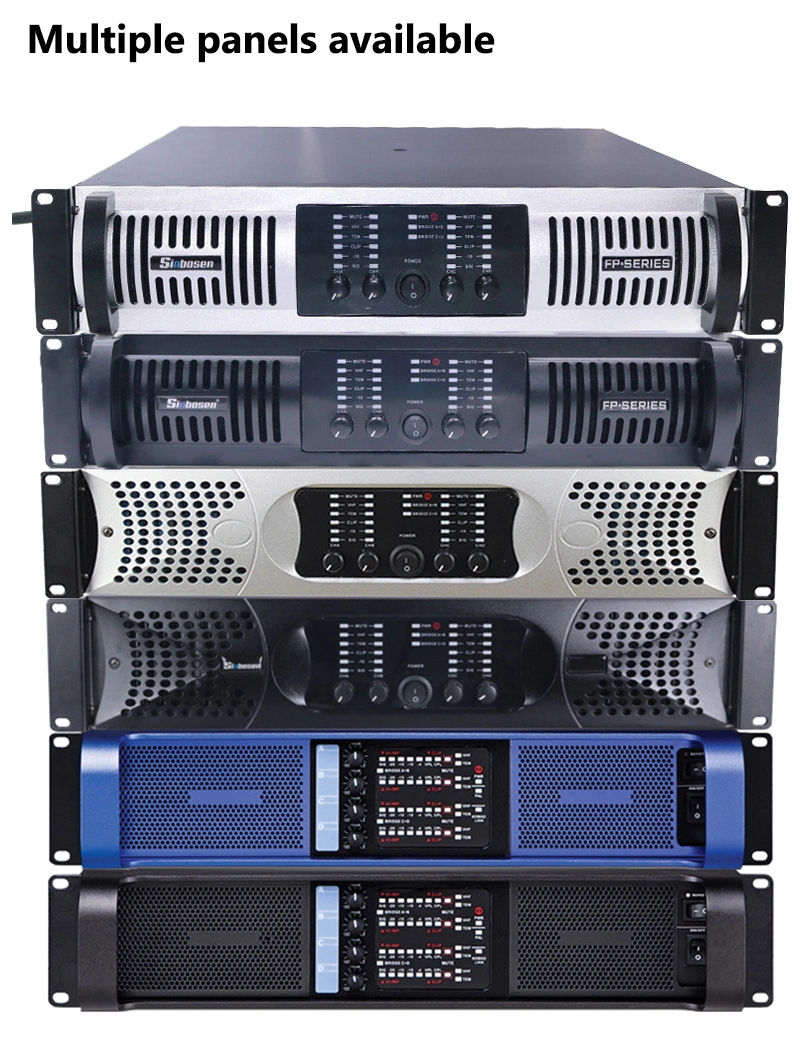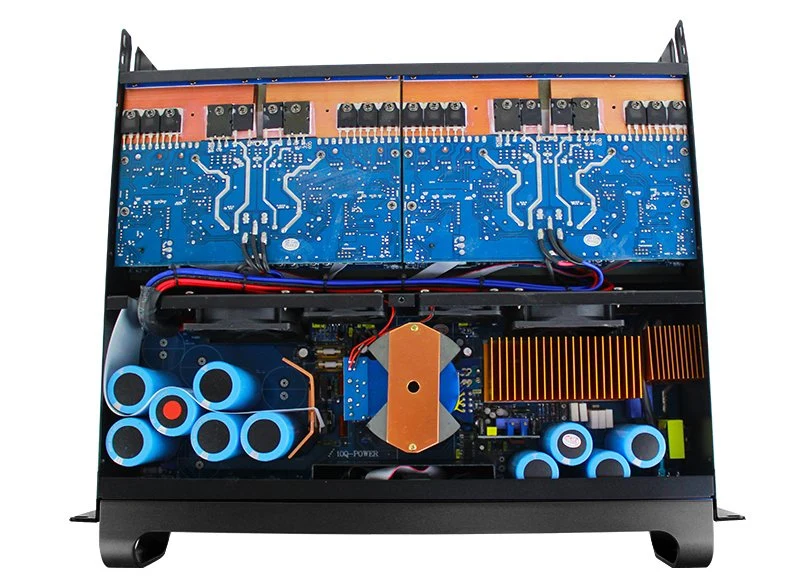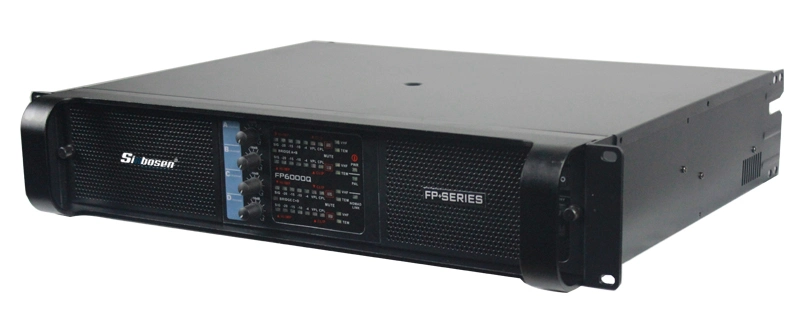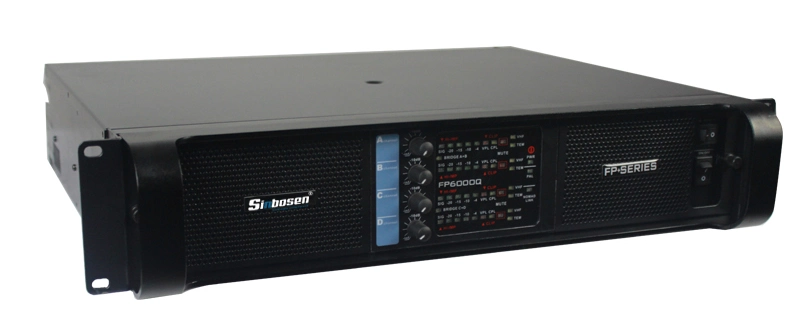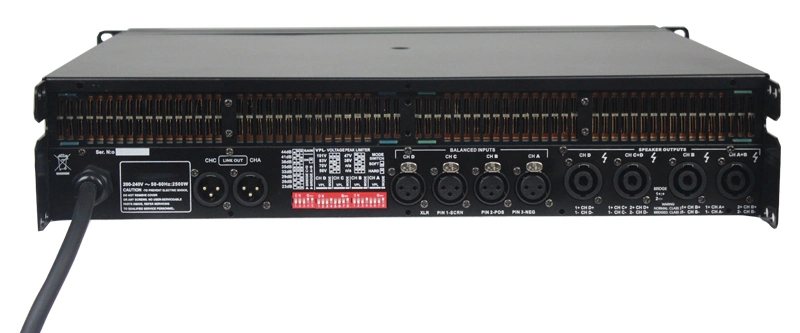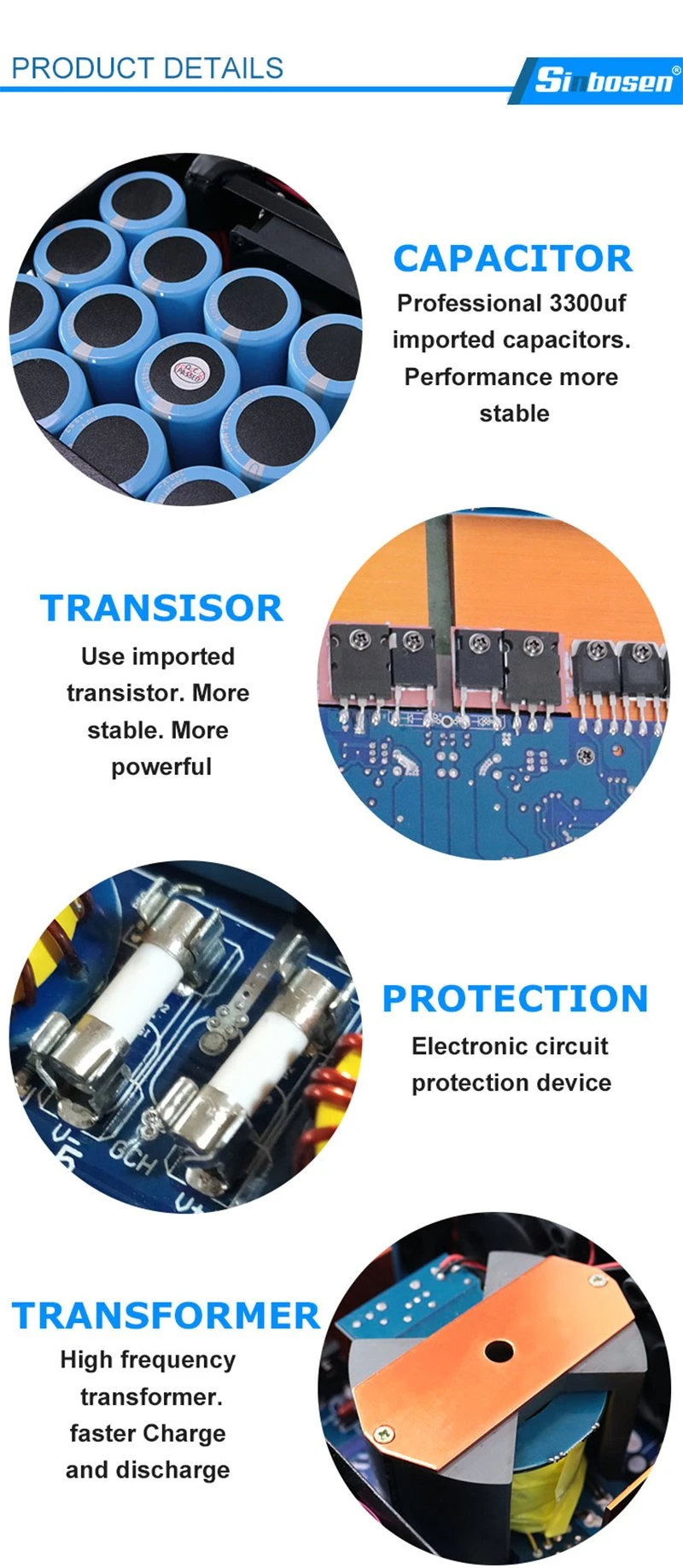 Feature
· 4 Channel Class TD Switching power amplifier, compact structure, reasonable.
· 4 x 625 Watts into 4 Ohms,4 x 1,300 Watts into 8 Ohms
· Neutrik XLR*/speakon connectors.
· Use Original Siemens high-quality capacitor 3300uf 200V.
· Use Original ONSEMI type PNP power output transistor.
· High quality fans from TaiWan.
· Separately controllable on Gain.
· Scalable Voltage Peak Limiter (VPL).
· Bridge-mode operation for Touring Applications.
· Comprehensive protection scheme.
· Each channel with independent adjustable peak output voltage, the amplifier can be very easy to drive different power sizes speakers .
· Intelligent protection circuit provides advanced technology to protect the internal circuits and connected loads, can in extreme conditions to protect the amplifier and speakers.